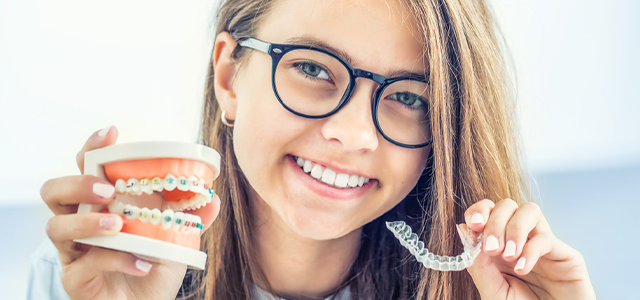 Orthodontic treatment goes beyond just having a great smile, straight teeth can be a prevention factor for issues such as jaw complications, gum disease, or pressure on the teeth. So, straightening out your teeth is never a bad idea, no matter your age.
Especially now, thanks to innovative dental technology and materials, orthodontics have come a long way from the outdated bulky braces of yester-year. There are a variety of unique types of aligner treatments to choose from to suit your specific requirements.
Four options for straightening your teeth.
1. Braces
Traditional metal braces are tried and true. Made from metal, these braces are the most effective and durable aligners.
For the traditional braces treatment, a metal bracket is bonded onto each tooth, which holds the arch wire in place. Rubber bands are placed over the wire to hold it down. The rubber bands are what give the traditional braces their colours. The wire will be adjusted every time you visit the dentist over the course of your treatment (every 6 weeks or so). By the end of the treatment, you should reach your desired straight smile.
Because these braces are semi-permanent for the duration of the treatment, they do come with certain restrictions when it comes to eating sticky or hard foods.
Traditional metal braces are the best option for those who have the most complex misalignment situations.
Pros:
Fast, effective
Stronger than other orthodontic materials
Versatility, works well on more severe cases
Affordable
Cons:
Obvious
Dietary restrictions
Requires extra care when maintaining oral hygiene
2. Clear Braces
Clear braces are the same as traditional metal braces both structurally and productively.
The only major difference between traditional braces and clear braces are the appearance. Clear braces are made out of ceramic material which are transparent or match the natural colour of your teeth. Therefore, these braces are super discreet. The same diet restrictions that come with metal braces apply to clear braces as well.
Clear braces are a discreet option that allows you to achieve all the benefits of traditional braces. These braces are great for those who want to correct serious alignment issues without having to wear obvious metal braces.
Pros:
Fast, effective
Strong
Versatility, works well on more severe cases
Discreet
Cons:
Dietary restrictions
Requires extra care when maintaining oral hygiene
3. Invisalign
Sometimes referred to as 'invisible braces', these aligners are the most inconspicuous.
The Invisalign treatment involves a series of clear plastic aligner trays that are custom made to fit snug on your teeth. Switching them out every two weeks gradually moves the teeth into their desired position. Not only are these aligners nearly unnoticeable, they are also completely removable. This means that you are still able to eat without restrictions, brush, and floss your teeth easily.
These aligners are not as effective as metal braces on serious misalignment issues, but they are inconspicuous and lifestyle friendly. This makes them the perfect option for a corporate lifestyle, a performer, musician, or people concerned about the appearance of braces.
Pros:
Discreet
Removable
Comfortable
Cons:
May require bi-weekly dental visits
Slower than most treatments
Not effective on serious misalignment cases
4. Powerprox
These braces are a hybrid between traditional orthodontic techniques and the newer technologies and materials.
Also known as 'fast Braces', these braces are the accelerated version of traditional braces. Powerprox braces are able to complete the straightening treatment in only six months.
These braces are made with high tech arch wires that have shape memory. This means that no matter how misaligned your teeth are before treatment, the wire will return back to its original shape, moving your teeth with it.
Fast braces look just like clear braces, with virtually invisible brackets and discreet wires, but they work twice as fast.
Powerprox fast braces are the perfect aligner option for people who want to improve their smile as quickly as possible, for an event or work for example.
Pros:
Fastest treatment
Durable
Cons:
Dietary restrictions
Requires extra care when maintaining oral hygiene
Obvious
Your oral health, desired outcome and budget will all play a role in which option is right for you. If you're not sure which is the best orthodontic option for you, or if you would like to request a consultation, please contact Iris Dental here.