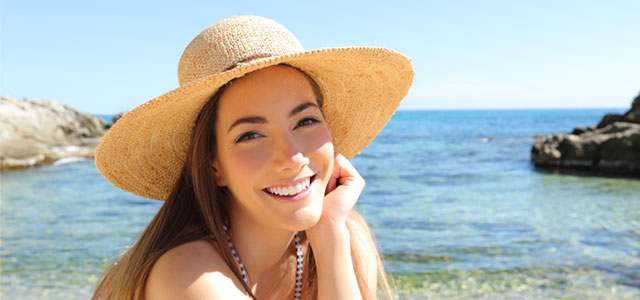 Iris Dental Point Cook wants you to have your whitest teeth for your summer photos and events
Are you thinking about freshening up your smile with whiter teeth this summer?
Well, with our ZOOM! professional teeth whitening treatment, you can unleash your whiter, brighter smile in no time. The treatment is cost effective and offered in chair by our dentists or as a take-home instead! This makes it perfect for those of you with busy schedules.
Summer is the perfect time for whiter teeth and a healthier smile
It's school holidays, which means summer is the perfect season for your family road trips, beach days, and getaways. Plus, the hot weather is great for taking bright, colourful, and fun filled photos!
While the sun's out and the weather's hot, your newly whitened teeth will glow bright. Perfect to help your smile stand out in photos!
Did you also know that the hotter months are very popular for increased events in Australia, even weddings? The hot weather makes for beautiful, bright, and natural scenery, which means many events can easily make use of both indoor and outdoor locations.
Which means our team believes it's time for you to achieve your whiter teeth to compliment your smile to make sure you're ready for all the summer events, festivals and getaways.
How does teeth whitening work?
It's simple, we begin with an examination to assess whether the whitening bleaching agents are appropriate for your teeth and gums. We take x-rays and make sure you have no restoration issues before whitening treatment begins.
You have a choice, as we offer in-chair dental whitening and take-home whitening to be convenient.
If take-home whitening is your preference, we will make a correctly fitting bleaching/whitening tray for your mouth and guide you through the whitening process and deliver you all the instructions!
Discolouration, enamel, and tooth stains can benefit from receiving teeth whitening treatment.
ZOOM! teeth whitening is quick, effective and has been proven safe for your dental health! However, some patients may experience a temporary increase in tooth sensitivity.
We recommend teeth whitening every 6 to 12 months for the best results as it unfortunately does fade over time.
How to keep your teeth white between dental whitening treatments!
Getting your teeth whitened for the summer?
Summer is the season for more barbecues, meetups and lunches/dinners over the Christmas and holiday period. Eating and drinking increases, which affects the whiteness of our teeth. So how exactly should you care for your teeth and keep them as white as possible between your teeth whitening treatments?
We recommend the following oral care routines:
Brush teeth twice a day
Floss once a day
Rinse with antiseptic mouthwash daily
Whitening toothpaste (use per label instructions)
At Iris Dental, our friendly team offers a wide range of dental treatments from general check-ups to more involved treatments. To find out more information on dental whitening treatments, or to book an appointment, please click here.