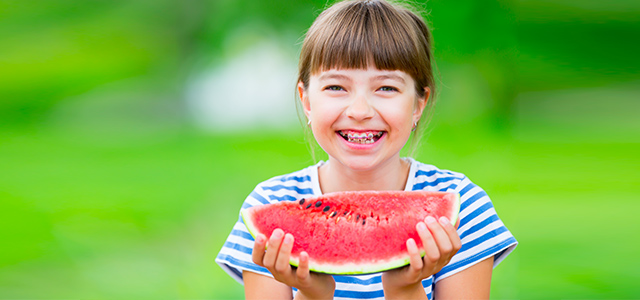 With today's orthodontic technology, nearly any age is an appropriate age to get braces. This is because modern orthodontics are more adaptable than ever before.
So, whether you're 10 or 50, braces can be an effective way to straighten teeth and improve your oral health.
But what is the best, the ideal, age to get braces?
The answer: a young age.
Why start treatment at a young age?
Braces are most effective while the mouth and head are still developing. During this stage, teeth are more receptive to orthodontic treatment allowing for faster treatment time.
Waiting until your child is in their late teens and the body has finished growing can mean longer treatment time and potentially less effective results.
Early treatment not only achieves a faster treatment time is also often provides better results because of your child's still-growing body.
How do you know your child needs braces?
There are certain signs you can look out for that will give you an idea of whether or not your child needs braces. The ASO has listed 8 signs to look out for that can help to determine if you should bring your child for an orthodontic assessment.
Eight indications your child may need braces
According to the Australian Society of Orthodontists, there are 8 signs your child may benefit from an orthodontic assessment at an early age.
The 8 signs are:
Irregular, early or late loss of baby teeth
Overbite or underbite
Difficulty in biting or chewing
Protruding teeth
Thumb sucking beyond the age of 5
Mouth breathing
Jaws and teeth out of proportion with the rest of their face
Misplaced, crooked or crowded teeth
If you notice one or more of these signs in your child, feel free to request a consultation with our friendly team today.
Orthodontic treatment options for children
If your child does need orthodontics, the best treatment option is usually metal braces.
Metal braces are the most common orthodontic treatment and are easily customisable. Modern-day metal braces are not as bulky as they were 10 or 15 years ago. And the bands can be different colours allowing your child to pick the colour of their smile during treatment.
This small customisable option can make it fun for kids to change the colour of their smile during treatment.
If the idea of braces is unappealing, there is also the option of clear braces.
Clear braces work the same way as metal braces but are made from a tooth-coloured material, so they blend in with the smile.
Orthodontic treatment options for teens
Teenagers often have more choices than children when it comes to orthodontics. Along with metal and clear braces, teenagers may also be eligible for Invisalign Teen.
Invisalign Teen is like Invisalign with one key difference. The aligners have compliance indicators on them to show how long the aligners have been worn for.
This is beneficial as Invisalign aligners need to be worn for 22 hours a day in order to achieve the best results.
A non-health factor to consider before your child gets braces
Of course, wearing orthodontics will impact the day-to-day activities of your child. So, it's best to discuss the pros and cons of orthodontics with your child.
Braces are great for straightening teeth and helping with jaw development. But it's a minimum 18-month commitment to a certain diet and oral health care regime.
The best age to get braces
The best age to get braces is between the ages of 10 to 14. This is when your child's physical development makes it most receptive to change.
If you would like to know more about orthodontics for children, or to request an appointment, please contact us today.