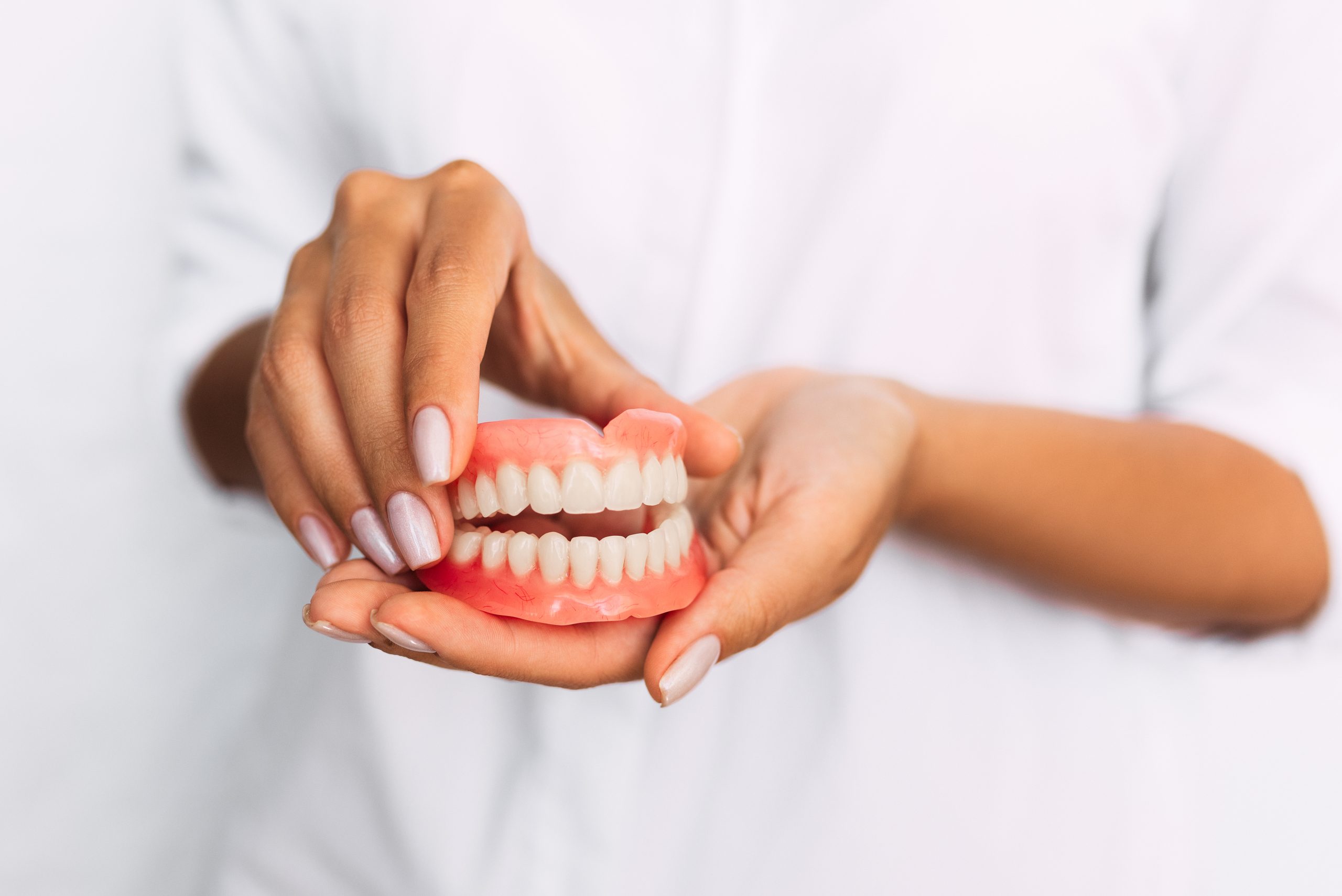 It is important that you clean and maintain your dentures for the sake of your oral health.
Dentures are an effective solution for missing teeth and can help to restore oral function, as well as the appearance of your smile. If you choose to get dentures, it is very important that you take proper care of them — this will help maintain overall oral health and ensure that your dentures last for many years. Read on to find out more about how to keep your dentures in good condition in the long term…
How should you clean your dentures?
Cleaning your dentures regularly is key when it comes to maintaining your oral health. Food particles and plaque can stick to dentures after eating and drinking throughout the day, and if left to build up, can lead to a number of issues, including bad breath and gum disease.
We recommend that you brush your dentures twice a day to keep them fresh and clean. Use a soft-bristled toothbrush and a mild soap or denture cleaning solution. It is important to note that most toothpastes are quite abrasive and can cause damage to dentures.
As well as brushing your dentures, it is also advisable to give them a thorough clean every night when you take them out before bed. To do so, rinse your dentures with warm water and clean them gently to remove any food debris and plaque. Next, soak your dentures in a specially formulated denture solution or lukewarm water overnight. Soaking your dentures will prevent them from drying out and losing their shape.
How can you keep your dentures in good condition?
Besides regular cleaning, there are a number of ways in which you can take care of your dentures to make sure that they last for many years. It is a good idea to rinse your dentures after every meal to remove any leftover food particles.
Be sure to use cleaning products that have been especially formulated for dentures. This will ensure that they are not damaged, scratched or discoloured.
Remember that you should never sleep in your dentures. Overnight soaking helps maintain the shape of your dentures and prevent them from becoming brittle and prone to breaking. When you soak your dentures, do so in lukewarm rather than hot water to prevent them from warping.
We encourage all of our patients to come in for regular dental check-ups. Any issues can be resolved at these appointments, and if necessary, adjustments can be made to ensure a more comfortable fit.
How can we help?
At Iris Dental, we offer dentures for patients who are experiencing partial or full tooth loss. We offer full dentures in cases where it is necessary to replace a whole set of teeth; and partial dentures for the replacement of one or several teeth. We offer both Vitallium partial dentures, one of the most advanced partial denture systems available; and acrylic partial dentures, which are usually the most cost-effective treatment. To find out more about the dentures that we offer at Iris Dental, please have a look here.
If you would like to make an appointment to see us, please don't hesitate to get in touch. We offer a range of restorative dental services, as well as general, cosmetic and orthodontic treatments. For a full list of the treatments that we offer, please have a look here.