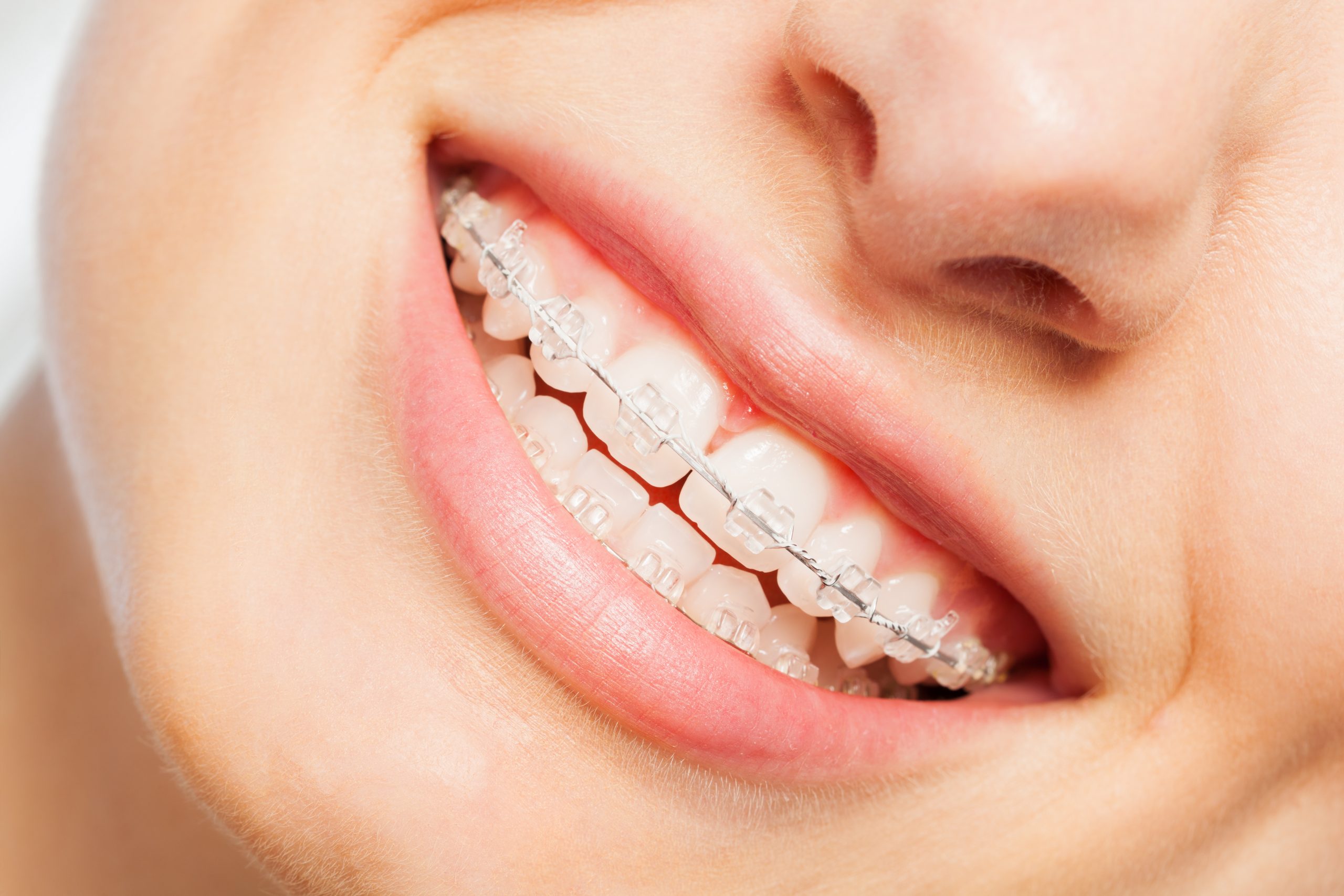 Clear brackets are stain-resistant, but clear elastic bands can become discoloured without the proper care.
If you are considering orthodontic treatment but would like a barely noticeable option, you might consider clear ceramic braces. Although they work in the same way as traditional braces, clear braces involve the use of tooth-coloured brackets, which provide an inconspicuous appearance. But can clear braces get stained? With the proper care and diet, it is possible to prevent stains throughout your orthodontic treatment. Here's how…
Do clear braces stain?
While the ceramic brackets of your clear braces are resistant to stains and discolouration, the elastic bands that are used to attach the brackets and arch wires can stain if they are exposed to certain foods and drinks. If the elastic bands are stained, they become more visible. For this reason, it is best to avoid staining altogether to enjoy a discreet and aesthetically pleasing treatment.
How can you prevent stains?
One of the best ways to prevent stains on both the clear elastics and the teeth is to avoid highly pigmented and dark-coloured foods and drinks. Foods and drinks like coffee, tea, wine, tomato sauce, soy sauce and dark fruits and berries such as blueberries, blackberries and pomegranates can cause stains and should be enjoyed in moderation only.
Besides avoiding stain-causing foods and drinks, it is also advisable to practice proper oral hygiene. To keep your teeth clean and healthy, you must brush and floss your teeth after eating. If you are not able to brush your teeth immediately after a meal, rinse your mouth with water to get rid of food residue and to minimise the time your braces and teeth are in contact with stain-causing foods.
Smoking can cause stains and braces to stain, which is why you shouldn't smoke during your orthodontic treatment.
If you notice any staining, we encourage you to come in and see us. Your orthodontist can replace any stained elastics if necessary.
How do ceramic braces work?
Ceramic braces are made up of a few components, including brackets, archwires and elastic bands. The tooth-coloured brackets are attached to the teeth, while the archwires connect the brackets and apply pressure to the teeth. Elastic bands are attached to the brackets and work by keeping the archwire in position. The elastic bands also help to adjust the position of the teeth and jaw and are available in a range of colours.
Much like traditional metal braces, ceramic braces work by applying continuous pressure to the teeth, forcing them to shift over time. The treatment is highly effective and generally achieves results much quicker than other cosmetic options. While some cosmetic treatments, such as clear aligners, are only suitable for minor orthodontic issues, ceramic braces can be used to resolve most alignment and bite-related issues.
How can we help?
At Iris Dental, we offer clear braces for patients who would like to straighten their teeth but would prefer a more discreet alternative to traditional metal braces. Many of our adult and teenage patients opt for ceramic braces, and the treatment is suitable for the treatment of almost all orthodontic problems, including misaligned teeth and bite-related issues.
If you would like to find out more about ceramic braces and how they work, please have a look here.
If you would like to come in and see us, please get in touch here or give us a call on 03 9394 7877 to arrange a consultation.
Besides clear braces, we also offer traditional braces, Invisalign and Powerprox braces. To find out more about our range of orthodontic treatments, please have a look here. There are several benefits to undergoing orthodontic treatment, and our team is available to address any questions or concerns that you might have regarding your options. Each patient is different and the orthodontic treatment that you choose will depend on your particular needs and aesthetic goals.