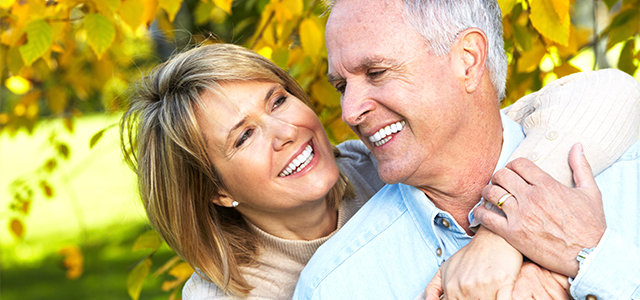 If you've lost your natural teeth due to damage, injury or decay then dentures may be for you
Dentures can replace teeth and restore your smile by offering a natural looking solution to enhance your appearance and benefit your health.
Dentures are artificial teeth and gums that are manufactured by your dentist to replace lost or removed natural teeth. Either full or partial, dentures can replace all teeth on either the top or bottom gum line or just a few that are missing.
Irrespective of what kind of dentures you need, Iris Dental will create custom designed dentures that fit your mouth and visually match your existing teeth.
Full Dentures
A full denture is a removable appliance that replaces all of the natural teeth and is supported by the gums.
Dentures can replace the entire set of teeth on the upper or lower jaw and a conventional full denture is placed in your mouth after any leftover teeth are removed and tissues healed. It may take several months for your mouth to heal during which time you will wear immediate dentures, which are a temporary solution.
Partial Dentures
Partial dentures are removable options that can replace one or several teeth and Iris Dental offers two different options:
Considered to be one of the most advanced partial denture systems, Vitallium dentures are made from high-quality, strong cobalt chrome which is cast in one piece making it extra durable. Vitallium dentures are a long-term denture solution for missing teeth that offer fracture and plaque build-up resistance. It can be difficult to keep chrome dentures in place if a supporting tooth is lost, which means all supporting teeth must be healthy.
These are usually the most cost-effective dentures and can be made within a short period of time. They can also act as the alternative material when the supporting teeth aren't as healthy because it's easy to add in these dentures if another tooth is lost. Acrylic dentures have a shorter life expectancy than Vitallium dentures but they are quick to make and can be created as a temporary denture or an inexpensive spare.
Advantages of dentures from Iris Dental
Dentures provide a cost-effective way of replacing missing teeth that don't involve extended and complex treatments like dental implants. Often considered a more accessible option, dentures can reduce the level of treatment needed to achieve an effective solution.
During your consultation, Iris Dental will assess your oral health and then determine what the best restorative treatment for your teeth is. With dentures, you are able to maintain a completed smile and oral functions that do not restrict or hinder your daily life.
For more information on full or partial dentures, or to book a consultation, contact Iris Dental today.