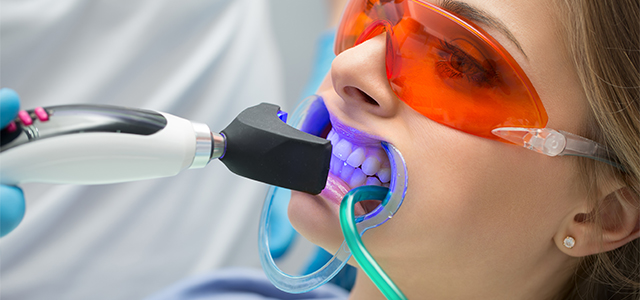 Neuroscientist, Andrew Newberg, M.D. and Director of Research at the Myrna Brind Center for Integrative Medicine at Thomas Jefferson University Hospital, said smiles are "the symbol that was rated with the highest positive emotional content"
Cosmetic dentistry is a section of dental care that focuses solely on the aesthetic nature of your smile. Keeping up with the advanced cosmetic dental technology, the team at Iris Dental can correct a wide range of cosmetic dental conditions.
Experienced dentists, Dr Maisa Zumot and Dr Luca Chen, know every patient has different expectations and requirements and often get asked; is cosmetic dentistry worth it?
They have put together this blog to address concerns and issues many patients have when thinking of undergoing the cosmetic dental procedures they offer at Iris Dental.
Teeth whitening
The most common dental cosmetic procedure the dentists are asked to perform is teeth whitening. Patients want a whiter, brighter smile, but unfortunately, no toothpaste can guarantee a whiter smile as they only remove external stains.
Iris Dental has implemented the ZOOM! teeth whitening system which is a safe, way to get a white smile in the shortest possible time.
Our teeth stain for a variety of reasons. Enamel stains or discolouration, trauma or a general discoloured pattern are among the most common, and luckily, these can all be treated with teeth whitening.
ZOOM! teeth whitening is a simple procedure. After an examination is performed and the bleaching is deemed appropriate for you, Iris Dental will offer you two options; a take home whitening kit or an in-office whitening treatment.
Take-home teeth whitening
In your first appointment, Iris Dental will show you how to use the whitening trays and how to apply the whitening gel correctly. Moulds of your teeth will be taken and your custom-made mouth guard will be manufactured. This will take around a week.
It's advisable to wear the trays for a period of one to two hours at a time, once or twice a day for approximately two weeks.
Whitening results last quite a while, but they do eventually fade. Its best to re apply the whitening gel to your teeth every 6 to 12 months for 1-2 days.
In-office teeth whitening
Many patients want a quick result in a short amount of time. In-office teeth whitening takes around 1-2 hours in the Point Cook practice and can lighten your teeth up to two shades.
For best results, Iris Dental recommends following up with an at-home whitening routine.
Porcelain veneers
Porcelain veneers are thin layers of porcelain shells bonded to the front of your teeth. Veneers can greatly enhance the aesthetics and function of your smile and will protect your teeth from damage and discolouration.
Iris Dental's porcelain veneers are virtually indistinguishable from your other natural teeth and each veneer is matched precisely to your tooth enamel for a seamless look.
Porcelain veneers are a great way of rejuvenating your entire appearance and can conceal issues such as:
Chipped teeth
Slightly crooked teeth
Discoloured teeth
Small teeth
Spaces and gaps between teeth
Cosmetic dentistry from Iris Dental
Advancements in dental technology have given patients a variety of options to choose when wanting to enhance their smile, so it's very hard to list any disadvantages.
However, there is one main downside, which is cost. At Iris Dental, we aim to support you in commencing your long-term goals for the care of your teeth. We offer zipMoney, so you can get the cosmetic dental treatments you want now and pay later.
Iris Dental takes the time to make sure they understand their patient's concerns and goals and work to develop a treatment plan that will address and improve imperfections.
If you are considering undergoing cosmetic dental work it's important you work with a dental professional that works with you to achieve your specific desired result.
Did we answer the question 'is cosmetic dentistry worth it?' It would be great to hear your feedback and for more information on cosmetic dentistry, or to schedule in an appointment, contact the team at Iris Dental today.