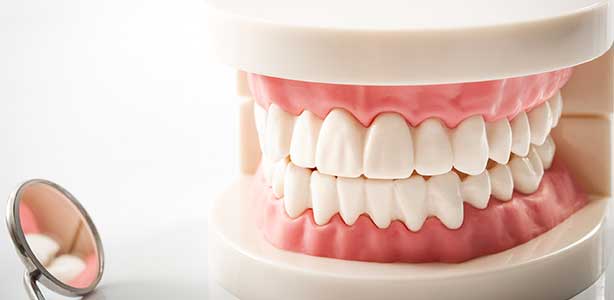 Dentures have been a mainstay of dentistry for thousands of years.
The concept itself is an excellent example of human innovation and the danger of sugar. Dentures are an extremely popular method of replacing missing teeth and have been around for a very long time – and there is a very good reason for this. Dentures have been dated back to around 700BC and were first employed by the Etruscans in Northern Italy using the teeth of other humans, or even animal teeth. Luckily for patients today, things have come a long way since wearing somebody else's teeth and we now have dental technologies that allow us to create prosthetic dentures that can rejuvenate your smile.
The Simultaneous Rise of Sugar and Dentures
One of the most important determining factors in the creation of dentures was the shift in diet that occurred during the 18th century. As sugar became more popular, people's oral and dental health begin to deteriorate. The industrial revolution led to a per capita increase in sugar consumption of an incredible 500%. Tooth decay lead to a number of advances in the quest for a solution and in 1820 Claudius Ash, a silver and goldsmith from Westminster was commissioned to create a new and improved denture.
The Evolution of Dentures
Since the previous century, ivory was the most common material from which to sculpt false teeth, but was very prone to discolouration over time. What Claudius Ash did was mount porcelain prosthetics onto an 18-karat gold plate with gold springs that were far more advanced both in terms of aesthetics and functionality. From the 1850s, dentures continued to improve in all facets and were now being made by Ash's company using vulcanite. This was the form of hardened rubber in which the teeth were set. Into the 20th century and acrylic resins and other plastics had become the materials that all dentists were using.
Nobody should have to suffer from their missing teeth and have their ability to smile freely taken away from them, which is something humans have realised for almost 3000 years. There is any number of reasons that you may be missing teeth and over time the likelihood that you will lose teeth increases. Gum disease is the biggest contributor to missing teeth in adults and is something that is notoriously quiet before doing major damage to your teeth.