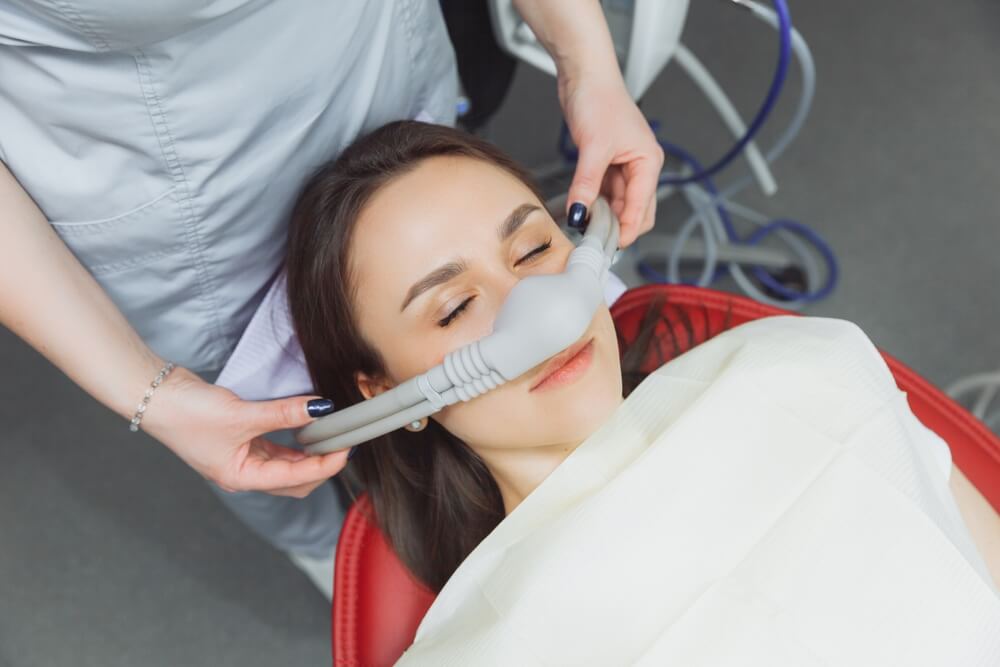 Fear of the dentist is common. Dental fears can contribute significantly to poor oral health as many sufferers will avoid seeking dental treatment for easily treatable issues. This results in simple problems becoming complicated, which means even more time needs to be spent in the dentist chair to fix these problems. Reduce the risk of needing complicated dental work with nitrous oxide to soothe your nerves during your procedures.
Nitrous oxide has been used in dentistry for well over a century. It is considered to be a safe and effective method for reducing both pain and anxiety during dental procedures. At Iris Dental, we want all our patients to have positive treatment experiences, and we believe that offering sedation dentistry with nitrous oxide is a great way to help anxious patients access the care they need.
How Is Nitrous Oxide Administered?
If you have been afraid to visit the dentist or are afraid of dental procedures, nitrous oxide may be an excellent solution for your fears. This medication is administered by the dentist through a small mask that you wear over your nose. This mask gradually delivers a steady stream of gas that makes you feel relaxed. The amount of nitrous oxide given to anxious dental patients can be adjusted to meet their specific needs. The treatment is safe, and the dentist can easily adjust the dosage as necessary. There are also safety measures in place to prevent overdosing.
How Will Nitrous Oxide Affect Me?
If you're a nervous dental patient, nitrous oxide sedation can help you relax and have a pain-free dental procedure. The sedative works by causing you to feel like you're dreaming, allowing you to relax and not feel pain. Patients who use nitrous oxide have reported that their dental treatments go by faster and with less pain. The effects of the gas should be evident within a few minutes. It slows the nervous system and makes you feel relaxed, lightheaded, and less inhibited during dental procedures. Patients may even find themselves giggling during their treatment. It helps put the patient into a dream-like state, which means that they will have little memory of the experience afterward. This sedation method is also safe for children, as it will not affect the development of the nervous system.
Although nitrous oxide will not entirely mitigate or nullify pain, it can be used in conjunction with other pain-relief methods to ensure that both your anxiety and pain levels are adequately managed.
Are There Side Effects from Nitrous Oxide?
Nitrous oxide is a safe and effective first-line treatment for dental anxiety. Compared to other drugs, nitrous oxide has few side effects. The drug doesn't knock you out; instead, it relaxes you. You will be able to communicate with your dentist and report any feelings of pain or discomfort so that the dosage can be adjusted to suit your needs. Although some people have reported feeling groggy and sleepy, most patients report a sense of comfort. They may also experience lightheadedness and buzzing sensations.
Occasionally, patients report headaches after treatment with nitrous oxide, however, these are not reported to be severe and quickly dissipate. You are even allowed to drive following your treatment because the side effects wear off so quickly.
Am I A Suitable Candidate for Nitrous Oxide for Sedation Dentistry?
While nitrous oxide is essentially harmless, patients with serious medical conditions should consult their doctors before undergoing nitrous oxide treatment. Please advise us before your appointment if you have any underlying conditions, such as severe obstructive pulmonary disease, congestive heart failure, or sickle cell disease. If you are generally in good health overall, there is no reason why you should not be able to take advantage of the benefits of nitrous oxide.
How Can We Help?
Suffering from dental anxiety can result in significant damage to the teeth due to postponing or avoiding necessary treatment. By providing nitrous oxide to anxious patients as part of our sedation dentistry offering, we hope to enable nervous patients to access any necessary dental care. You can lie back, take a few deep breaths, and relax while our team of dentists works their magic.
To learn more about sedation dentistry at Iris Dental, please have a look here.
To schedule an appointment, please call (03) 9394 7877 or use our online booking portal.