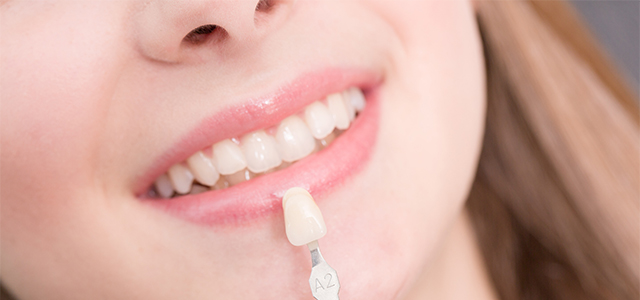 Porcelain veneers are thin customised porcelain shells that are bonded to your teeth to enhance your smile and protect your teeth from further damage and discolouration.
Porcelain veneers closely mimic your natural teeth, and well-crafted veneers are almost indistinguishable from the natural colour and contours of your smile. There are two fundamental benefits to veneers: to restore the tooth surface and to change the aesthetics of your teeth.
Porcelain veneers are a great way to rejuvenate your entire appearance and can be used to change the shape of your teeth, close gaps and improve the colour. You can apply a porcelain veneer or one to each tooth to achieve dramatic improvements to your smile quickly, without years of orthodontic treatment.
Advantages of porcelain veneers
In addition to aesthetic appeal, there are many benefits of porcelain veneers including:
Strength and durability – Porcelain veneers are made from strong, durable material
Long-lasting – They can last anywhere from 8-10 years, with proper care
Customised – Impressions of your teeth will be sent to a laboratory which means the veneers are hand-crafted for you
Cosmetic benefits – Porcelain veneers can hide imperfections like chipped, cracked, widely spaced, broken, badly discoloured or slightly misaligned teeth
No recovery time – After the veneers are bonded, patients can leave Iris Dental and immediately carry on with everyday activities
Stain-resistant – Porcelain veneers are resistant to staining, unlike your natural teeth so you can maintain your pearly whites, while not restricting your diet
Natural-looking results – They are specially designed to match your natural tooth colour
How to care for your porcelain veneers
Porcelain veneers are one of the most versatile applications to restore your smile and taking care of your porcelain veneers is quite simple, treat them as you would your normal teeth.
Brush twice a day and floss daily to keep veneers clean and intact.
Don't chew on hard items like hard lollies or use your teeth as tools as you could damage your veneers.
Visit Iris Dental for regular check-ups and cleans
Enhance your smile with porcelain veneers from Iris Dental
To achieve your dream smile, we provide the uppermost standard of dental services, combining state-of-the-art technology and years of professional experience. Patients often wish to treat broken, chipped or discoloured teeth or close the gaps between their teeth and veneers may be a successful treatment option. Iris Dental is committed to a strong, reliable and highly aesthetic veneer system.
For more information on porcelain veneers, or to book an appointment, contact Iris Dental today.