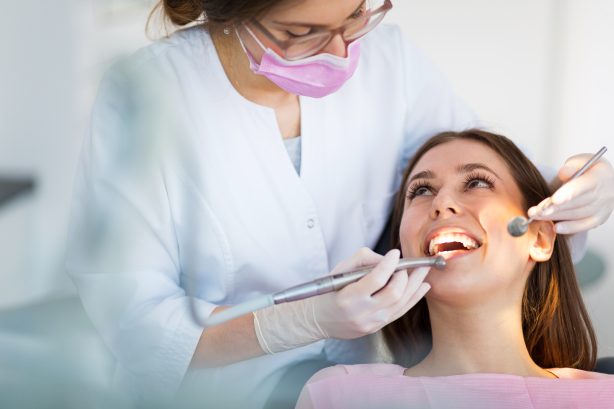 Understanding what your dentist does and understanding what the team of people who help them do, makes it better for you to feel secure and comfortable throughout all your dental visits.
Who's your dentist?
A dentist can also be known as a dental surgeon, someone who specialises in the diagnosis, prevention and treatment of dental diseases.  Your dentist is licensed to carry out most dental procedures such as restorative procedure, orthodontics, prosthodontics and oral surgery to name a few. They can also engage in surgeries such as implant placement and prescribe medication such as antibiotics, fluorides, pain killers, local anesthetics and sedatives.
Some dentists choose to specialize in certain fields of dentistry, for instance, they can specialize in endodontics, anesthesiology or oral implantology.
At Iris Dental, we are privileged to have Dr Maisa Zumot who has a Bachelor of Dental Science degree and is accredited by the Australian Dental Council. Her education coupled with her extensive experience in practice makes her a good candidate for offering you the best dental care
What is a dental therapist?
A dental therapist provides preventative and restorative dental care.  They study and can diagnose disease, they can also assist in conditions surrounding the oral cavity and surrounding structures. The dental therapist's role is very important because it offers support to the team. Under the lead and instruction of the dental surgeon, they can administer certain treatments on children and adolescents. Here's a look at some of the tasks the dental therapist is able to perform.
They can educate patients, parents, schools and communities on the dental disease, how to prevent dental disease and how to maintain good oral health
Applying materials to teeth such as fluoride, and fissure sealants
Providing emergency temporary replacement of crowns and fillings
Taking impressions
Referring to dental issues that are not handled by dental therapists such as orthodontic work, to an orthodontist
Dental teams often work in unison and harmony. Each one carrying out their tasks to ensure that you have a good experience in the practice.  So, what qualities would a dental therapist need? Especially since a lot of them find themselves working with children
The ability to be a good team player
A mild personality that is open and can listen well
Good verbal and written communication within the team and to patients, especially if it involves children
The ability to build good relationships with children, making them feel at ease and comfortable.
Precise hand-eye coordination
Who is the dental hygienist?
Dental hygienists are licensed dental professionals who have to be registered with a dental association or regulatory board within their country of practice. They work alongside dental surgeons or independently. Within a dental team, they assist in giving full oral health care. They have the training and education to specialise in the prevention and treatment of oral diseases.
Some dental hygienists are qualified to administer local anesthesia and perform dental radiology. They also perform oral cancer screenings and preventions, apply dental sealants, administer topical fluoride and provide patient-specific oral hygiene instruction. Similarly, to the dental therapist, the dental hygienist also needs attributes that allow them to work well and closely with patients.
Patience and understanding. Some patients are fearful and uneasy about dental work and examinations, they, therefore, need to be put at ease and made comfortable. Educating the patient about the procedure makes the patient feel they are in good hands
Pay attention to detail, this works especially when the dental hygienist educates and helps the patients understand the importance of preventative oral maintenance.
Good health, the work of dental hygienists often means they're up on their feet, standing, sitting and moving around constantly. This can be exhausting. A good dental hygienist will take care of themselves so they're able to fully perform their duties
A positive attitude. Having a positive attitude and interacting with patients in a positive manner, helps puts patients at ease