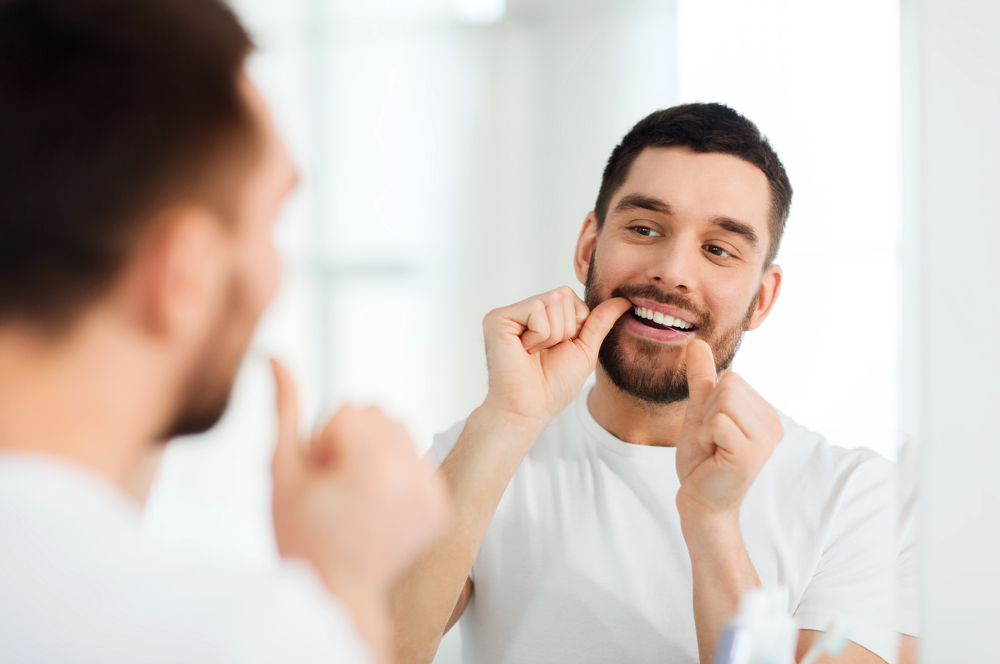 Daily flossing should be part of any proper oral hygiene routine.
If you are committed to healthy oral hygiene habits, you will know that it is important that you floss your teeth every day. Without thorough flossing, it's possible that you could be cleaning only around 60 percent of the surface of your teeth. Flossing helps to get rid of harmful bacteria and plaque in areas that your toothbrush simply can't reach — this includes between the teeth and along the gum line. So, how do you know if you are flossing properly? Read on for our top tips…
1.  Get your technique right
Ideally, you should use a piece of dental floss at least 45 centimetres long every time you floss your teeth. Hold the floss securely by winding most of it around your middle fingers and leaving between two and five centimetres for flossing. Hold the floss with your index fingers and thumbs and glide it gently up and down between two teeth. Be careful not to damage your gums when doing so — when you reach the soft gum tissue, simply curve the floss to form a 'c' shape at the base of the tooth so that you can clean the area between the gums and tooth. Repeat as you move from tooth to tooth, using a clean section of dental floss as you go.
2.  Floss at least once a day
Most dentists recommend that you floss your teeth at least once a day before you brush your teeth. When you floss, you loosen food particles and plaque that may have got stuck between the teeth. Brushing and rinsing, then remove them from your mouth.
It doesn't matter what time of day you choose to floss your teeth, as long as you find a way to make it a habit.
3.  Choose a floss that works for you
If you have ever browsed the dental aisle in your supermarket or pharmacy, you will know that there are many flossing products to choose from. The type of floss that you choose will depend on a few factors, including how much space you have between your teeth, if you have braces and your personal preference.
Some of the most popular flosses include dental tape, which is broad and flat and well-suited for those who have braces or large gaps between the teeth; standard floss, which is thinner and can be either waxed or unwaxed; and super floss, a dental threader that is designed to work well with braces, bridges and large spaces between the teeth.
4.  Understand the benefits
Understanding the benefits of flossing may just serve as the motivation you need to make it part of your daily routine. The reality is that regular flossing plays an essential role in maintaining a healthy smile, and if you don't floss your teeth, plaque is likely to build up and increase your risk of oral health issues like tooth decay and gum disease.
In addition to getting rid of plaque and keeping problems like gum disease at bay, flossing also helps prevent bad breath. When food particles get stuck between the teeth, they gradually decay, which can lead to an unpleasant odour in the mouth.
How can we help?
At Iris Dental, we love to help our patients maintain healthy smiles. We encourage all of our patients to practise proper oral hygiene habits on a daily basis and to raise any questions with our friendly team.
We offer a range of general and preventative dental services designed to achieve and maintain optimal oral health. Regular check-ups and cleans are a great means of keeping health issues at bay and enjoying a beautiful smile for life.
To find out about the full range of treatments we offer at Iris Dental, please have a look here.
To book an appointment with our team, please get in touch here or give us a call at (03) 9394 7877.