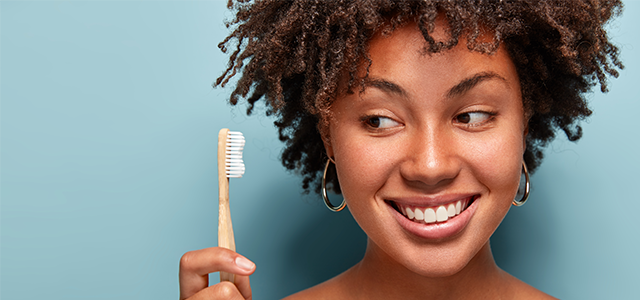 Proper brushing technique is key when it comes to maintaining your oral health.
We all know how important it is to brush our teeth regularly, but when it comes to maintaining oral health, it's just as much about technique as it is about frequency. Read on to find out how you can master your brushing style and keep your teeth and gums healthy and clean…
What do you need?
In order to clean your teeth thoroughly every day, it's important that you choose a good quality toothbrush. Whether you choose a manual or electric toothbrush will depend on your personal preference. Either way, don't forget to replace your toothbrush or electric toothbrush head every few months.
Besides a toothbrush, you should also use a toothpaste that contains fluoride. Fluoride helps to strengthen the enamel and protects against tooth decay. Be sure to stock up on some dental floss, as well as an anti-bacterial mouthwash.
How to brush properly
You should brush your teeth for around two minutes each time — this will ensure that you remove any food particles and debris from your mouth. Use a small amount of toothpaste (a pea-sized amount is generally fine) and place your toothbrush at a 45-degree angle to your gums. Using short, circular strokes, brush your front teeth gently. Once you have cleaned your front teeth, move onto your back molars and the upper chewing surfaces of all your teeth.
When you have finished brushing all the surfaces of your teeth, be sure to clean your tongue as well. This helps to remove bacteria and plaque and prevents bad breath. Finish the process by rinsing your mouth with some water.
If you have a child, guide them through the brushing process. Use a soft children's toothbrush and a small amount of toothpaste (use a fluoride-free type if your little one is under three years old) and brush their teeth and gums gently. Starting proper oral hygiene habits at a young age helps to teach your child the importance of oral health.
Don't forget to floss your teeth at least once a day as well. To do so, use a long piece of floss and hold it tightly with your thumbs and index fingers. Gently move the floss up and down between two teeth at a time. When the floss reaches your gums, curve it at the base of the tooth so that it can enter the area between your tooth and gums.
How can we help?
If you need any help improving your oral hygiene habits, we encourage you to come in and see us. We provide dental care to patients of all ages, including children. Our team is available to address any questions or concerns you might have, and is happy to demonstrate proper brushing and flossing techniques.
While brushing and flossing your teeth will help to maintain good oral health, it is also important that you come in for regular dental check-ups. At Iris Dental, we recommend a proactive approach and offer check-ups and cleans. During a routine check-up, we will thoroughly clean the surfaces of your teeth; remove tartar from above and below the gum line; remove stains; polish the teeth; evaluate your gum health; apply a fluoride treatment; and teach you how to effectively care for your teeth at home. We also provide take-home care packs that contain a toothbrush, floss, toothpaste and travel case.
If you would like to make an appointment to see us, please don't hesitate to get in touch. We look forward to welcoming you to our practice in Melbourne.