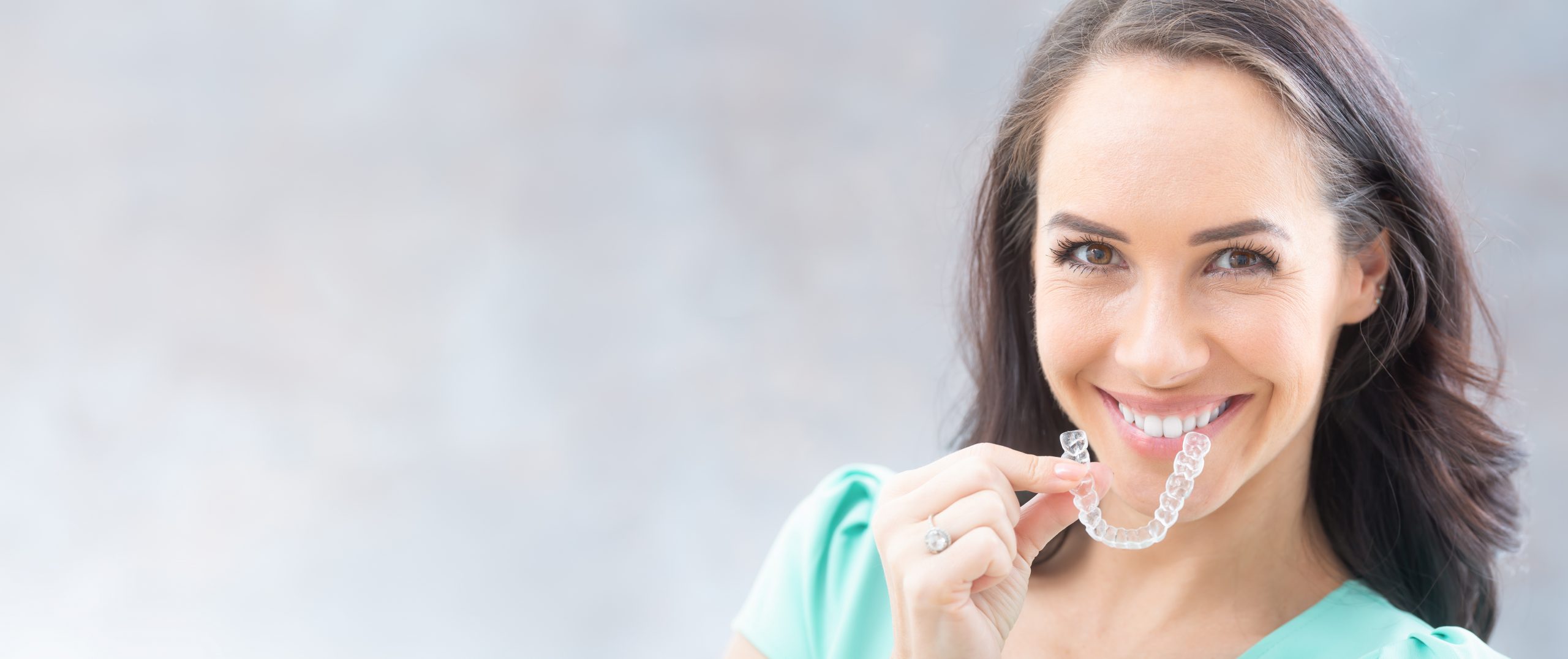 Invisalign gradually moves the teeth with the use of clear aligners.
If you would like a straighter smile, but don't like the idea of having traditional, metal braces, you might consider Invisalign. During the treatment, you will need to wear clear, removable plastic aligners, which work by gradually moving the teeth. The aligners are typically very comfortable and convenient, but what does the treatment actually involve? Read on to find out more about Invisalign, how it works, and the kinds of issues it can help to resolve…
What does the treatment involve?
Unlike traditional metal braces, Invisalign involves the use of removable aligner trays. The aligner trays are custom-made to ensure a good fit and comfort and work by gradually shifting the teeth into new positions. In order to plan your treatment, your dentist will take 3D digital scans of your teeth — these will then be sent to a specialised laboratory where the aligners are made with a clear thermoplastic material.
Once your aligners have been fabricated according to the unique shape and size of your teeth, your dentist will check that the fit is correct and explain to you how they should be worn and cleaned. We recommend that you wear your aligners for around 22 hours a day, removing them only for eating, drinking and cleaning. Every two weeks or so, you will change your aligner as your orthodontic treatment progresses and your teeth shift into their new positions.
What kinds of issues can be resolved with Invisalign?
While Invisalign is not suited to very complex orthodontic issues, the treatment can help to resolve a number of concerns. These include crowded teeth, gaps between teeth, overbites, underbites and crossbites. If you have crooked teeth or a misaligned bite, the treatment might be right for you — we recommend that you arrange a consultation so that we can assess your teeth and let you know if Invisalign would be a good option for your particular situation.
Who might consider Invisalign?
While Invisalign is not suited to every patient, the treatment is often ideal for those who would like to straighten their teeth but would prefer something more discreet than traditional metal braces. In fact, Invisalign aligners are barely visible, making them a popular choice for adults who may not have had the opportunity to undergo orthodontic treatment at a younger age.
Invisalign is also a good choice for those who are interested in saving time on orthodontic treatment — while the process differs from patient to patient, the duration of treatment is usually between 9 and 24 months.
Are there any other options?
If Invisalign does not suit your particular orthodontic needs, lifestyle, or budget, there are a number of other options available. At Iris Dental, we offer traditional braces, clear braces and Powerprox fast braces. If you're not sure which of these options is best for you, we recommend that you come in for a consultation and assessment so that we can help plan a treatment that works for you. To find out more about our orthodontic treatments, please have a look here.
If you are interested in finding out more about Invisalign or any of our other orthodontic treatments, please don't hesitate to get in touch. Our team is dedicated to providing all of our patients with excellent care, and can provide dental and orthodontic solutions for all ages. To read about our team members at Iris Dental, have a look here.