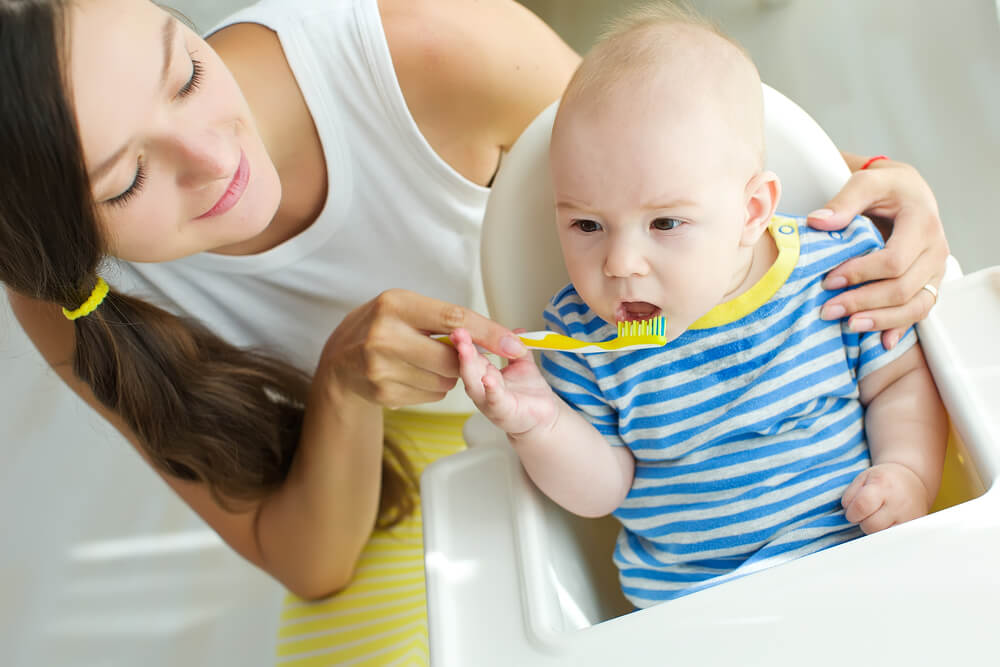 At Iris Dental, we care deeply about ensuring that each and every one of our patients can access excellent dental care at any age. It's never too early to start caring for your child's teeth, so let's take a look at some of the best ways to ensure that your child has excellent oral health and dental care habits from the get-go.
There are many reasons why it's important to start dentist visits at a young age. Early check-ups mean that your dentist can catch any potential problems sooner rather than later, leading to less intense treatment needs down the line and better long-term prospects for ongoing oral health. But when should you start bringing your child in for check-ups?
When Should I Bring My Baby To The Dentist?
While it's not essential to book your baby in for a check-up when your child has no teeth, as soon as that first baby tooth starts breaking through the gum, you should schedule your child an appointment. Indeed, the Australian Dental Association recommends that children begin visiting the dentist from the time they get their first tooth or from their first birthday – whichever occurs first. While it may seem counter-intuitive to bring your one-year-old to the dentist if your child doesn't yet have teeth, most babies will have at least one tooth by the first year milestone. If your child is older than a year and hasn't yet grown any teeth, it is advisable to go for a check-up to make sure there is nothing amiss..
What To Expect At Your Baby's First Dentist Appointment
At Iris Dental, we love educating parents and children on how best to take care of tiny teeth. At your baby's first appointment, we will provide advice and guidance on how best to look after your little one's teeth. As your child grows older, we will show them how they can properly brush and floss their teeth, so that they can play an active part in their dental care. Typically, a routine check-up will involve a full cleaning, an examination of the gums, and some advice and guidance about oral hygiene. To encourage your child to get excited about dental care, we give all of our little patients their very own take-home care pack after their appointment, containing a toothbrush, toothpaste, and even dental floss.
How Do I Look After Baby Teeth At Home?
Bringing your baby in for dental check-ups is all well and good, but it's not a substitute for taking care of their teeth at home. Brushing those tiny little teeth is extremely important! Be sure to use a baby toothbrush – these are softer and smaller than regular toothbrushes, and won't hurt your child. While your baby is younger than 18 months, there is no need to use toothpaste, although a pea-sized amount can be introduced after that 18-month milestone. Using child-friendly toothpaste is very important at this stage, as it can be swallowed without causing any digestive issues for your little one. Likely, your child will initially struggle with spitting after brushing, so using toothpaste that can be ingested is crucial. As your child grows into the toddler stage, you can start encouraging them to take an active and enthusiastic role in their dental hygiene routine. To make this slightly easier, the Australian Dental Association suggests positive reinforcement and rewards for completing tasks such as brushing for a full two minutes every morning and evening..
How Can We Help?
At Iris Dental, we love treating patients young and old. We believe that it's never too early (or too late!) to develop good dental health habits, and we're here to assist you and your family in any way we can. Whether it's advising new parents on how to ensure their baby grows up with excellent teeth or helping grandparents get new dentures, we are ready and waiting to help! Our highly experienced team is on hand to answer any questions you may have about beginning your baby's dental care journey.
To find out more about children's dentistry at Iris Dental, please have a look here.
To book an appointment, please call (03) 9394 7877, or use our handy online booking portal.