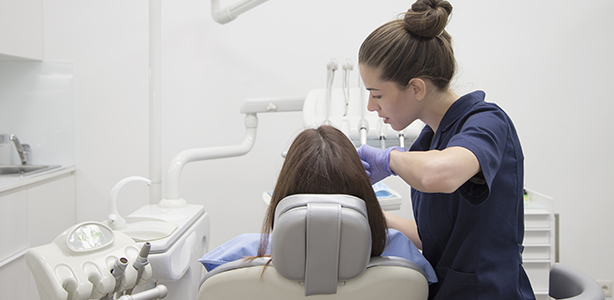 Like the fear of heights, spiders and snakes – many patients avoid dental treatments because of a crippling fear of going to the dentist. Caused by a number of factors, dental anxiety is a common phobia that sees dental problems escalate due to lack of treatment.
Also known as relaxation dentistry, sedation dentistry allows us to use specifically controlled dosages of medication to induce a sense of relaxation. This gives our patients a chance to get the care they need, in a safe and relaxed environment. Our sedation procedures relax the body and reduces pain while the dental work is being performed.
The team at Iris Dental make use of nitrous oxide, often referred to as laughing gas to make patients feel calm and relaxed. Nitrous oxide is a breathable gas with no colour or smell and it should not result in any complications. Typically administered an hour before the procedure, laughing gas should reduce pain as well as induce a numb feeling. After breathing in the gas for a few minutes, you will start to feel the effects throughout your body.
Sedation can be used during the following procedures:
• Cosmetic procedures
• Fillings
• Cleanings
• Extractions
• Root Canals
• Dental Crowns
• Gum disease treatment
Like every procedure, many patients are curious of the advantages and disadvantages associated with the treatment and rightfully so. Here's what you should know if you are considering sedation dentistry:
Pros of dental sedation
• The treatment should help you feel calm and relaxed while in the dental chair
• If you have a fear of pain during dental procedures, sedation helps reduce the effects of pain
• Your dentist visit should be cut shorter as we are able to carry out faster procedures when a patient is relaxed. (This does not however suggest that the procedure will be rushed).
• If you suffer from anxiety, sedation dentistry can help reduce the effects during your treatment
• Sedation dentistry can help you feel more comfortable during longer procedures
• There a minimal side effects and the treatment generally wares off quite fast
• There are various levels of sedation you can choose from, however, this should be discussed in detail with your dentist
Are there any side effects to sedation dentistry?
Although uncommon, different people may have different experiences, some reported side effects and cons of sedation dentistry include:
• Nausea
• Dizziness
• Fatigue
• Possible allergic reaction
Precautions to follow before the procedure:
1. Consult your medical doctor
This is a must, especially if you have existing health complications and are taking medication. When visiting the dentist, it is important to bring along your entire medical history as well as any additional precautions that are recommended by your doctor.
2. Find a dentist with experience
The dentists at Iris Dental are experienced in performing sedation dentistry.
3. Ask questions
Our job is to make you as comfortable as possible before administering the desired dental treatment. Part of this process is answering any questions you may have about the sedation technique, side effects, or the actual dental procedure. We prefer being given the opportunity to truthfully answer your questions instead of you seeking those answers from unverified online sources.
Iris Dental's main goal is to help patients achieve a happy and healthy smile, whether you're anxious, nervous or just uncomfortable with the idea of sitting in the dental chair, our sedation options can help you.
If you would like to know more about the treatment, contact us at Iris Dental Today!