The team at Iris Dental is truly passionate about giving back to the community we're part of.
That's why we are proud supporters of a couple of local sports clubs. This way, we can be involved in the community and at the same time support local junior sports players.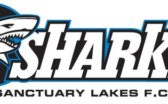 Sanctuary Lakes Sharks Football Club is a community and family oriented club established in 2012. The club now has 250 under age players and 50 seniors, all of them committed to the strict Zero Tolerance code regarding anti-social, discriminatory or poor behaviour.

Sanctuary Lakes Cricket Club is another family focused club striving to build a great culture that is inclusive to all. Their teams start with kids as young as 5 and range up to Men's Seniors, and had 3 teams in the grand finals last year.
At Iris Dental, we love these inclusive cultures and attitudes. We encourage boys and girls of all ages to go and enjoy the great game of cricket or football with their families.